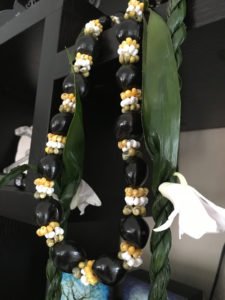 I was so fortunate to find ordained Huna Alaka'i Lisa when we purchased our new home and felt the calling to have a Hawaiian Blessing done.
I started planning about a month before close of escrow and it was NO easy task to find someone locally in Southern California! I googled for Hawaiian house blessing and sent a few emails and made a few calls for about a week and by luck happened upon
Huna.org
and the Alakai list/page. It wasn't looking like I had too many options, but I noticed Lisa's SoCal area code, emailed her and crossed my fingers. She replied back the very next day!
We communicated back and forth for about a month and fast forward to the blessing, it was everything we could have hoped for and wanted!
All throughout Lisa collaborated with me on the details for the flow of her procession, offered to pick up leis for us and gave advice on thinking of a name for the house to thinking about what we might want to do to conclude the ceremony and blessing. I had ti leaf maile and orchid leis made for the event and it went perfectly. Lisa arrived with her husband Michael and she graced my husband and I with her handmade kukui nut leis and shell necklace for my daughter. I in turn greeted her back with the maile lei with white orchids I had made expressly for her.
We felt the high vibrational spirit of Aloha and powerful mana from her immediately. The most significant part was when we set up at the front of the house entryway door to start the ceremony and she boldly chanted the Hawaiian prayer to open. The surge from within my heart that overpowered my being to lift my spirit was so intense and encompassing. I could not help but feel the surge of energy of love and gratitude at that very moment with her leading us spiritually in our new home. We walked the house with Lisa while she sprinkled the rooms and the corners expressing positive intentions out loud.
She gave us the crystals to plant in the four corners of the property. To end the ceremony we chose to light a red pillar candle with heleconia engraved from Hawaii on our fireplace mantle with our family picture. It was the perfect place and way to end as Lisa had us each say a blessing for the home. It brought tears to my husband as he remembered his parents which are no longer, but felt our ancestors in the room. I can't tell you how meaningful and beautiful it turned out and cannot recommend Lisa highly enough! She even brought a bottle of Martinelli for us to toast and drink afterwards. I am so grateful the universe brought us together in blessing our new home!
~~~
In spirit,
Vera