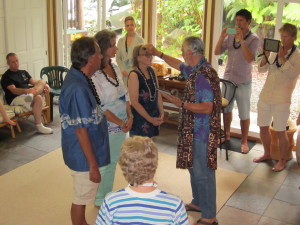 I was ordained on October 23, 2015 as an Alaka'i of the Order of Aloha International.
According to Aloha International, "The mission of Huna International as outlined in its charter is:
• To teach and practice the Seven Spiritual Principles of Huna.
• To create peace and harmony through the Spirit of Aloha.
An Alaka`i of the Order of Huna International is an ordained spiritual leader who has decided to dedicate himself or herself to a ministry of healing based on the Spirit of Aloha, the Seven Huna Principles, and Hawaiian Shamanism as taught by Serge Kahili King. The basic role of an Alaka'i is to be a healer and leader, to share the knowledge, and to help his or her fellow Alaka'i to carry out their role. The healing ministry of an Alaka'i may be undertaken at all four levels of reality in any of the following ways:

Teaching (speaking, instructing, training, counseling, writing, publishing, distributing information)
Individual Therapy (any kind of direct client- or patient-centered therapy based on Huna and Hawaiian shamanism)
Group Therapy (mediation, negotiation, ho'oponopono, peace-making)
Eco-therapy (any form of healing the environment or human relationships with the environment)
Kokua Groups (the formation and/or direction of Healing Circles, Blessing Clubs and similar mutual and community support groups).

The Order of Huna International is organized as a non-sectarian religious order. As an ordained member of the Order an Alaka`i is legally a member of the clergy. Since the Order is non-sectarian and follows no dogmas the Alaka`i is free to join or belong to any other spiritual or religious group without restrictions.

The Kanawai (Constitution) of the order states that the Alaka`i shall specifically have the right to:

• Perform marriages, baptisms, funeral services and such other blessings and sacerdotal functions as may be required of them in their function as clergy (in accordance with the laws of their community).
• Give spiritual and practical counseling to individuals, married couples, families and children.
• Carry out spiritual healing as appropriate.
• Teach the Seven Spiritual Principles of Huna."
Huna and Aloha International is not a religion, but an Hawaiian philosophy. Aloha International is a non-profit set up by Serge Kahili King to gather people of like minds and have a central place for people to learn about the principals and philosophies of Huna.